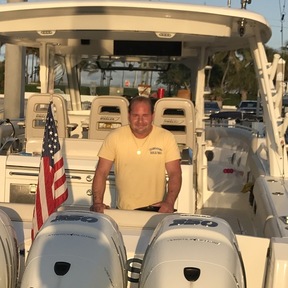 Having started in high end restoration and movie prop cars I had always transported my own overwide cruisers,
Personal boats and offshore racing Catamarans nationwide.
A life long boater growning up
In Point Pleasant NJ,
moving to Fort Lauderdale in 1989
I have owned and operated a multitude of boats.
Every type of hull imaginable.
Following a life epiphany,
I choose to do what I love full time
Connect people with their boats .
Closing up shop in Sarasota on 15th street leaving Chris Craft , Yellowfin, Wellcraft plants behind I said goodbye to me neighbors and I went on the road full time,
No employees, I had always loved my
career and clients and it was time
To get back to being 100% hands on.
" I don't follow industry standards,
I raise them "
Captain JC ,
President
JC Marine services .
Www.jcmarineservices.com
Follow me on Facebook and IG
@ JCMarinetransport .
In her honor, always .
No followed people